If you run a number of websites or even one website, for business promotion or for some direct income, the simplest and the most effective way to give a boost to your business is to start guest blogging. Guest blogging lets you link your own site to the blog. This will improve the ranking of your page in search engine rankings and will also give you visibility. Thus people who would have never known you otherwise will at least recognize you.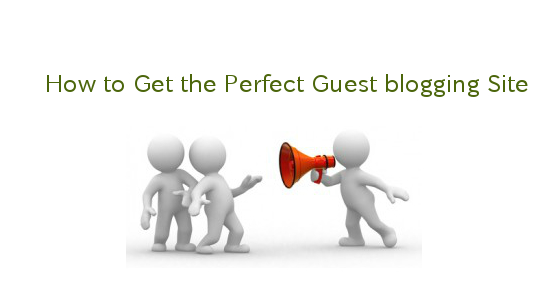 The benefits are crystal clear, but what needs to be done to get a regular guest blogging place is not very clear. There are many ways to do so. Three of these effective tricks and steps are described below so that you can have a regular spot to guest blog.
Boost Your Own Website:
The first step is to make your own website a bit attractive. If the website that you run has no visitors, you are going to have a tough time to get the opportunity of guest blogging. The host who will let you guest blog needs readers to come to his site, and he wants his blogs, including yours, to be read. If you do not have any readers for your own blog, it's going to be a tough task for you.
So, before jumping off to guest blogging, build your own pages, so that it contains quality content. Also, it should have a sizeable reader base.
Approach Others For Guest blogging On Your Site:
Build relationship with people belonging to your own niche. Have an attractive website and let other people write guest blogs on your site. When you invite someone to write you can also express your desire to write guest blogs for them. This will benefit all.
It will rarely happen that someone who is writing on your blog will deny you the opportunity to write on his or her blog. This directly means that you will secure some good guest blogging spots for yourself.
Target Big Sites:
Contact sites that have considerable reader base. The best way is to give them a blog already written by you. If you ask them for permission to write blogs for them, they will usually decline, but if you directly send them some relevant and useful posts, there are high chances that they will accept your request.
This will result in more traffic for your own website and will also give a sound base for regular and effective guest blogging. You can get opportunities with other users who may be having their own sites and who read and like your writings.
It is not a cakewalk to get a regular spot where you can guest blog, but following the above mentioned steps, you will increase the chances of getting one. In course of time, you will definitely have recognition and you will be posting on reputed websites. Thus, by guest blogging, you are increasing your traffic and your business, which will result in more profits.
This article is brought to you by Ng Pillai CEO of Quarite.com and Talented-Writers.com